As Buhari prepares fight plan, Boko Haram kills 150, including women, children in mosques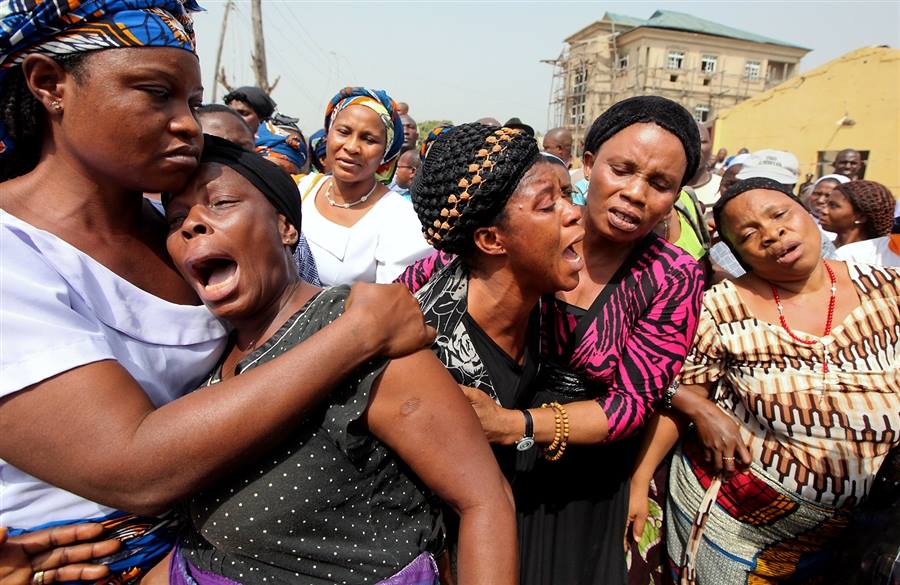 As Buhari prepares fight plan, Boko Haram kills 150, including women, children in mosques.
[toggle title="Witness"]
[/toggle]Suspected Boko Haram militants have killed nearly 150 people in northeastern Nigerian villages, mowing down men and children while they prayed in mosques and shooting women preparing food at home, witnesses said on Thursday.
Dozens of militants stormed three remote villages in the flashpoint Borno state on Wednesday evening, setting houses ablaze in the bloodiest day of attacks by the extremist group since President Muhammadu Buhari came to power in May.
Gunmen killed at least 97 people in Kukawa, the worst-affected village, a local who gave his name as Kolo and who said he had counted the bodies told AFP.
"They wiped out the immediate family of my uncle… They killed his children, about five of them," Kolo said. A fisherman who witnessed the attack corroborated the death toll.
Babami Alhaji Kolo, another witness in Kukawa who fled to the state capital Maiduguri, said more than 50 militants had stormed the village.
"The terrorists first descended on Muslim worshippers in various mosques who were observing the Maghrib prayer shortly after breaking their fast," he said.
"They… opened fire on the worshippers who were mostly men and young children.
They spared nobody. In fact, while some of the terrorists waited and set most of the corpses on fire, others proceeded to houses and shot indiscriminately at women who were preparing food," he said.
Malami Abdulkareem, an Arabic teacher in Kukawa, said some of the victims were as young as four. "The attackers did not spare even children between four and 12 years old who went to mosques with their fathers. I saw at least nine kids who were killed in two mosques," he said.
A military source in Maiduguri, who refused to be named, confirmed the attack but could not yet give a death toll.
"The military responded with aerial bombardments on terrorist positions," he said, without giving further details.
In two other villages near the town of Monguno, meanwhile, gunmen killed 48 people and injured 11 others, local lawmaker Mohammed Tahir and witnesses told AFP.
"They selected particular male residents from among the crowd of worshippers… and opened fire on them before setting the two villages on fire and razing them to the ground," Tahir said.
Another resident who managed to flee said the militants arrived in vans and on motorcycles.
"Many of us managed to escape amid volleys of bullets," said the resident who asked not to be named for safety reasons.
Kukawa is around 50 kilometres (30 miles) away from the two villages near Monguno.
All three are located near Lake Chad, which straddles Nigeria, Niger, Chad and Cameroon and has been a focal point of the unrest.
Boko Haram had captured scores of towns and villages in the northeast last year, but has since been pushed back into hide-outs by a four-nation military offensive that kicked off in February.
Despite their territorial losses, the insurgents have kept up their deadly raids, explosions and suicide attacks on "soft" targets such as markets and mosques.
And the armed group has intensified its campaign of violence since Buhari came to power on May 29 vowing to crush the jihadists' bloody uprising that has claimed at least 15,000 lives.
Since then, some 400 people have been killed in attacks blamed on the extremists, who have sworn allegiance to the Islamic State group, according to an AFP tally.
USAfrica: Novelist Chimamanda reveals she was sexually assaulted at 17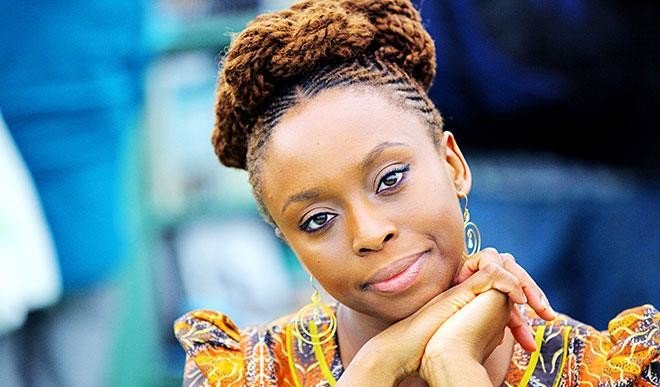 Special to USAfrica [Houston] • USAfricaonline.com   @Chido247
Award-winning novelist and author of Half of a Yellow Sun, Chimamanda Ngozi Adichie, has revealed that she was sexually assaulted at the age of 17 by "a big man" in the media in Lagos, Nigeria.
She was born on September 15, 1977 in Enugu. She revealed this during an address at the 2018 Stockholm Forum for Gender Equality. 
Chimamanda recalled how she had taken a book of poems she wrote to a "big man in the media" so he could support her in publicizing that work but the yet undisclosed man sexually assaulted her he slipped his hand under her shirt and bra, then squeezed her breast. "I was so taken aback that I did nothing for seconds", she said. Then, I pushed his hand away, but gently, nicely, because I didn't want to offend him.
"Later that day, I broke into a rash on my chest, my neck, my face, as though my body were recoiling, as though my body were saying what my lips had not said."
"I felt a deep loathing for that man and for what he did. I felt as if I didn't matter, as if my body existed merely as a thing to be done with as he wanted. Yet, I told no one about it. And I kept talking to him, being polite, hoping he will help with my book."
#USAfrica #BrkNews: Barbara Bush has died at their home in Houston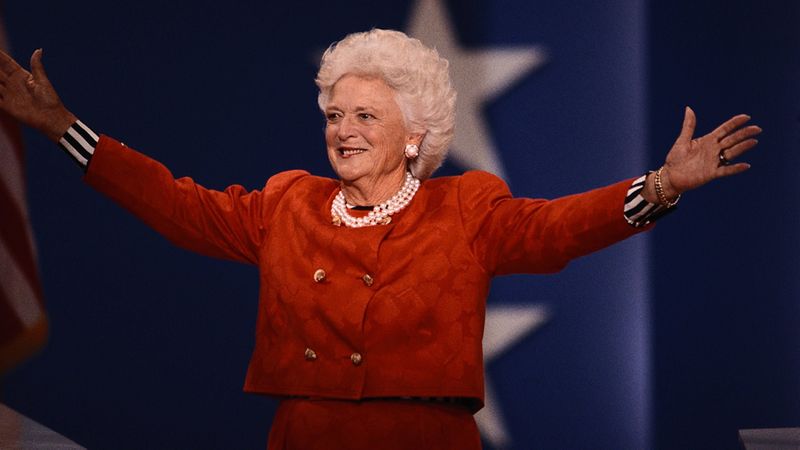 Barbara Bush, first lady from 1989–1993 during the presidency of her husband, George H. W. Bush, has died at their home in Houston. She was 92; and the mother of George W Bush
World SOCCER SHOWDOWN: South Africa backs Morocco; U.S under pressure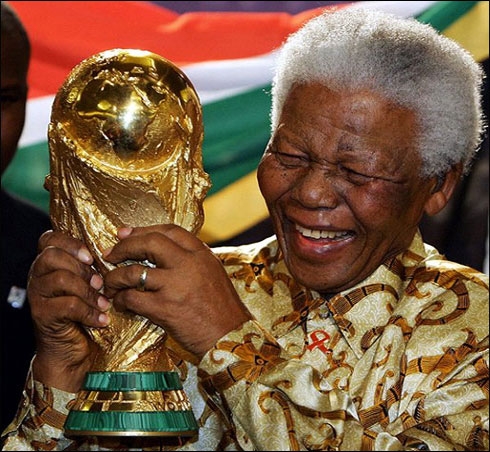 Special to USAfrica [Houston]  • USAfricaonline.com  •  @Chido247  @USAfricalive
"It is an old myth that Africa doesn't have the capacity, and naysayers should stop using the political argument. Africa hosted the best Fifa World Cup ever and with good support, Morocco can emulate South Africa," said the SAFA president Jordaan.
Johannesburg – South Africa Football Association (SAFA) president Danny Jordaan has promised Morocco that South Africa will give its unqualified support to secure another World Cup on the African continent in 2026.
Morocco is vying to stage the world's biggest football prize against a joint bid by Canada, Mexico and the U.S.
The Moroccan delegation comprises ex-Senegal and Liverpool striker El Hadji Diouf and former Cameroonian goalkeeper Joseph-Antoine Bell.
Jordaan said it would be great for Africa to have a second bite of the World Cup cherry, adding Morocco's bid was Africa's bid.
Jordaan assured Morocco that he would personally lobby for the Council for Southern Africa Football Associations (Cosafa) and the rest of the continent to rally behind the Moroccans.
In his remarks, Antoine Bell said Morocco had all the ingredients to host another spectacular World Cup.
"South Africa showed the way and I am confident Morocco will follow suit. The country has international standards, from the stadiums to top infrastructure. Morocco can compete with the best in the world," he said.
By giving Morocco its support, South Africa's voice would make all the difference on the continent, Bell said.
"When South Africa talks on the continent, the rest of the continent listens hence it is vital for South Africa to support Morocco. South Africa has the experience and Morocco will use this experience to win the 2016 bid," added Bell. African News Agency